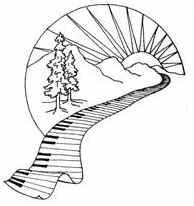 Peace Region
Songwriters
Association
Member Bios
 

Janina playing her cedar wood flute at the opening of the Pioneer Village, Dawson Creek, BC in June of 07

Janina Carlstad, originally from

Edmonton

,

Alberta

, is a poet who has lived in the Peace Country for almost 20 years.

Inspired by the beauty, challenges, and wonders of the land and people of the area (and the world), her poetry contains colourful images and descriptions of life around her.

Janina's motto is "Be the Change You Wish to See In the World"(Gandhi), is a guiding force behind much of her work in the education field.

Janina particularly enjoys helping young people celebrate life through music and the arts.

Career highlights in this area include a computer generated CD entitled "Share the Peace", developed by students of Bear Canyon School, AB, and song-writing, music, and performance with the junior high band, D6 (Diversified Six), in Menno Simons School. Janina joins the Peace River Songwriters' Association to further her poetry writing and with the hope of learning much more about music and song.

 
 

One of the founding members of the songwriters group, Dori is a popular local singer/songwriter. Her 'Prairie Jazz' sound and intelligent lyrics make her a unique and special talent. She is also an extremely gifted artist, potter and poet. Her CD "This Chill" is on sale at Under the Willow (Dawson Creek) or at the Dawson Creek Art Gallery.

Dori playing at a PRSA concert promo event at the Dawson Mall 2006

 
 
 
 

Kjetil playing at Pouce Coupe Canada Day Celebrations July 07

Kjetil was born in Norway, taking interest in music at an early age... Musical

influences helping form the musician he is today were Ugly Kid Joe, Roxette, Bruce Springsteen, and COC. Unfortunately for his mother's ears, Kjetil fell in love with the distortions of the electric guitar and that force has been present in most of his musical production ever since. Back in

Canada

, Kjetil jammed with musicians through high school and started writing songs when he was fifteen. He started his first serious band when he was twenty-three. No Ones Alone was a five-piece hard rock band starting out with a catalogue of Kjetil's songs and then evolving into collaborative writing with the band. Two years into that band, Kjetil formed a solo project called Landsgard into which he continues to feed new material of both the hard rock and folk genres.

 
 
 

Bill entertaining at the Pouce Coupe Canada Day Celebrations 07

Born and raised in the Peace River country, Bill Studley has been performing and writing for many years. His songs tell real stories in true country and western style, and his humourous songs are always in demand at any venue. He also writes cowboy poetry and co-writes songs with his partner Linda Connell Studley.

 
 
 

Linda performing at "Jam at the Dam" in Hudson Hope, BC, 2007

Born and raised in Montreal, Quebec, Linda has lived, since then, in Vancouver, in northern British Columbia, In southern Alberta, in the Okanagan and back again to northern BC.

She has played country dances and music festivals, bars and benefits, on the CBC and at her friend's tea house in downtown Dawson Creek.

She has musically wandered from traditional/folk music to rock and roll to country but has always returned to the traditional music she grew to love while living 'Back East'. She co-writes songs with her partner Bill, writes poetry, draws, paints and enjoys photography and creating digital artwork.